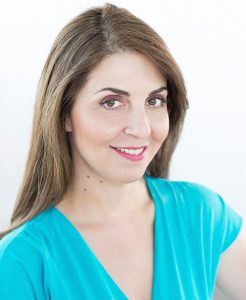 Wer die abgedrehte Science Fiction Serie LEXX kennt, kommt nicht an der ungewöhnlichen Giggerota vorbei. Hinter diesem Charakter steckt die kanadische Schauspielerin Ellen Dubin. In ihrer Vielseitigkeit tauchte sie ebenfalls in den TV-Serien Nick Knight – Der Vampircop, Raven – Die Unsterbliche, Mission Erde – Sie sind unter uns, Relic Hunter – Die Schatzjägerin, Mutant X, Dead Zone, Blood Ties – Biss aufs Blut und einigen mehr als Gast auf. Neben der Schauspielerei ist sie als erfolgreiche Synchronsprecherin aktiv, so in Lego Star Wars – Das Erwachen der Macht und in vielen Computerspielen darunter Guild Wars 2, Elder Scrolls V: Skyrim, Fallout 4, Star Wars Uprising, Elder Scrolls Online, Defense Grid: 2, World of Warcraft: Warlords of Draenor, Murdered: Soul Suspect und Wasteland 2. Dies bezieht sich auf die englischen Sprachversionen. SHORTREVIEW Redakteur Sascha Leupold nutzte die Möglichkeit mit Ellen Dubin über ihre Rollen und Arbeit zu sprechen.
SHORTREVIEW: Du hast in Science Fiction Filmen, Komödien, Thrillern und vielem mehr mitgespielt. Welche Art von Rolle bevorzugst Du und warum?
Ich bin in jedem Genre, welches ein ansprechendes Drehbuch bietet, glücklich. Schriftsteller sind die stillen Helden unseres Geschäfts. Ohne gutes Material kann ein Schauspieler nicht arbeiten. Solange das Skript eine Art emotionalen Bogen besitzt, einige einzigartige Charakterzüge, sowie komplexe und interessante Beziehungen bietet, ich bin ein sehr zufrieden. Ich hatte das Glück, dass ich die Gelegenheiten bekam eine Vielzahl von Rollen zu spielen, von Komödien über Dramen zu Thrillern und Science Fiction Filmen der Woche. Ich muss aber eingestehen, mein aktuelles Projekt BURYING YASMEEN ist mein Favorit!
SR: In der Kultserie LEXX spielst Du die verrückte Giggerota. Sie hat noch immer eine große Fangemeinde. Wenn Du zurückdenkst, was macht Giggerota so besonders?
Für solch unglaubliche Fangemeinde, die sogar noch wächst, bin ich sehr dankbar und freue mich, das sie Giggerota die Hinterhältige mögen. Zunächst einmal gebührt ein dickes Lob dem Schöpfer von LEXX, Paul Donovan, der eine solch wilde und ungewöhnliche Show zusammengestellt hat, die wirklich ein Vorläufer für Sci-Fi-Serien dieser Art war. Er und Schriftsteller Lex Gigeroff nahmen große Risiken auf sich diese einzigartigen und ungewöhnlichen Charaktere zu entwickeln. Ich denke, das Publikum liebt Giggerota weil sie sagt und handelt, wie ihr es gerade in den Sinn kommt. Sie zensiert sich nicht, redet frei und handelt, doch eben mit viel Humor und Bravour. Frauen mögen sie, weil sie ein starker kraftvoller Charakter ist. Besonders beliebt ist Giggerota, wenn sie Stanley, gespielt von Brian Downey, auf ihre Art herumkommandiert. Dazu kommt die Tatsache, dass es sehr beliebt war, wenn Giggerota in verschiedene Charaktere reinkarniert. Mich freut weiter, das Giggerota übergreifend in allen vier Staffeln von LEXX dabei war. Sie wurde von einer Königin zu einem Immobilienmakler, der später Papst wurde. Was für eine wunderbare Wendung! Ich denke, das Publikum begeistert es unterschiedlich aussehende Charaktere mitzuverfolgen, die alle Giggerota's Persönlichkeitsmerkmale widerspiegeln. Ein fabelhaftes Konzept und sehr ungewöhnlich!
SR: LEXX ist Science Fiction mit besonderem Humor und ungewöhnlicher Optik. Was hast Du gedacht, als Du das Drehbuch gelesen hast?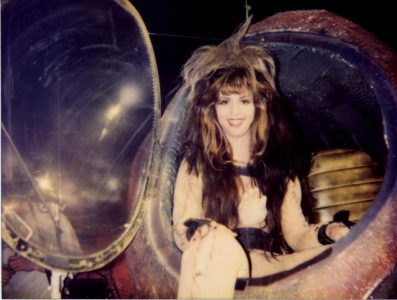 Als ich das erste Mal das Material für LEXX lass, hatte ich keinen Schimmer davon, was da abgehen würde. Beim ersten Vorsprechen sind wir nur einen kurzen Monolog über die Liebe von Frauen von Stanley Tweedle durchgegangen. Ich war nervös, weil ich keine Ahnung hatte, wie ich damit umgehen soll. Ich mochte nicht einmal das Material. Ist das nicht komisch? Aber ich ging auf Risiko, was gefiel, denn ich wurde für Giggy zurückgerufen. Ich erinnere mich beim zweiten Vorsprechen vorm ersten Satz den Fuß gegen die Wand gedrückt zu haben, sowie die Arme wie eine riesige Gottesanbeterin ausbreitete, die bereit ist ihre Beute zu packen. Dies beeindruckte, denn durch die Körpersprache und Körperlichkeit schuf ich sogleich eine Verbindung. Ich denke, dies geht zurück auf meine Tanzausbildung und Theaterarbeit. Zurückblickend merke ich, wie klug und vielschichtig LEXX als Show war. Kinder lieben es, weil es bunt und lustig ist anzuschauen. Erwachsene dagegen sehen die Zweideutigkeiten. Es gab wichtige Kommentare zu Politik, Religion und vielem aktuellem mehr. Eine sehr intelligente Show! Selbst wenn es jemand nicht mochte, blieb sie in Erinnerung. Es ist immer noch einer der Höhepunkte meiner Karriere, da es mir eine Fangemeinde im Science-Fiction-Genre schenkte. Dazu durfte ich die Welt bereisen, sowie Dreharbeiten in Berlin und Potsdam mitmachen! Erinnere mich an leckeres Brot und wunderbare Schokolade!!! (lacht)
SR: Du macht viel Synchronisation. Was sind hier der Spaß und die Herausforderung für Dich?
Ich liebe es mit der Stimme zu spielen. Ich fühle mich so frei dabei. Der Spaß ist einen Charakter ohne Requisiten, Bühnenbild, Kostüme, Haare und Make-up, sowie ohne die Anwesenheit der anderen Akteure zu schaffen und dies nur durch die Verwendung meiner Stimme. Es ist ein wunderbares Gefühl, wenn Du siehst wie du der Figur Leben einhauchst. Dazu wird bei der Besetzung nicht drauf geachtet, ob ich groß, klein, dick oder dünn bin. Ich kann alles sein, ein Tier, eine Königin, ein Detektiv oder ein Fantasiegeschöpf. Auch das Alter spielt keine Rolle, ich kann ein junges Mädchen oder eine alte Dame sprechen. Das ist einfach großartig und die Aufnahmen kann ich von jedem Ort der Welt machen und Pyjama tragen. (lacht)
SR: Sind die Synchronisation für Computerspiele anders als für Film und Fernsehen?
Dies ist meine Philosophie und ich bin froh, dass Du mich auf die Synchronisation ansprichst. Wir arbeiten mit der Stimme. Wir schauspielern! Es geht nicht darum nur die Stimme zu verfälschen. Alles hängt von einer gut abgerundeten Leistung ab. Vorm sprechen muss man wissen was passiert ist, welche Beziehung zu den anderen Charakteren besteht und was Du von ihnen willst. Die Synchronisation muss sich sehr real und natürlich anhören. Also, wenn ich ein Videospiel spreche, ist es so, als würde die Kamera dicht vor meinem Gesicht sein und dies aufnehmen. Selbst wenn ich etwas im militärischen Stil tue oder schreie sollte es sich real anhören und nicht wie ein Samstagmorgen Cartoon.
Wenn ich erlärende Dialoge für einen Themenpark wie Disneyland einspreche, muss ich mehr Energie einbringen, denn die Stimme ist zu einem vollen Orchester und Chor möglicherweise zu hören. Dazu ist es gut, ihr etwas Phantastisches mit lyrischem Unterton zu geben. Ungeachtet davon muss es immer noch aus dem Herzen kommen. Ich möchte Menschen berühren, wenn sie meine Stimme hören. Gelungenes Synchron bedeutet mit der Stimme richtig zu schauspielern, denn schließlich spürt das Publikum eine authentische Leistung.
SR: Du bist Alana Secord und Allie Filmore im Game FALLOUT 4. Was kannst Du mir darüber erzählen und wie kann ich mir vorstellen, hast Du Dich darauf vorbereitet?
Vorbereitung für die meisten Videogames gibt es nicht. Oft bekomme ich das Textmaterial erst wenn ich die Arbeit im Tonstudio beginne, dies liegt meist an den Verschwiegenheitsklauseln. Theatererfahrung kommt mir hier sehr zu Gute, denn dort lernt man schnell auf dem Punkt zu sein, um die volle Leistung zu bringen, sowie einfach nur gut lesen zu können. Ich weiß, dass eine sehr filmische Art von Stimme mit einer sehr realistischen Performance erwartet wird. Zum Glück gibt es noch den Regisseur, der einen ebenso anleitet.
Auf Videogames habe ich mich mein ganzes Leben lang vorbereitet, insbesondere, weil ich eine gut ausgebildete Schauspielerin bin, dies umfasst Theater, Gesang, Tanz, Sprachen, Shakespeare, Komödie, Farce und Drama. All dies hilft, um im Tonstudio in eine Rolle zu schlüpfen und einen Charakter mit der Stimme zu kreieren.
SR: Bekommst Du von den Spieleentwicklern irgendwelche Informationen? Vielleicht Biographien der Charaktere, Szenen und Bilder aus dem Game oder Artworks?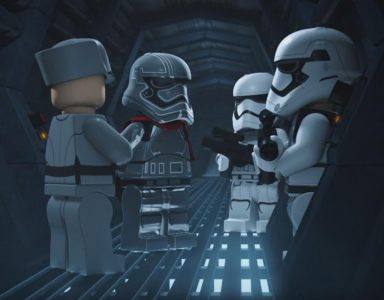 Manchmal hat man das Glück. So gab es bei GUILD WARS 2 Diagramme von den verschiedenen Charakteren, die ich sprach. Ich konnte mir ein Bild von den Kreaturen machen, wie groß sie sind, wie gefährlich die Zähne und furchteinflössend die Augen. Einmal war ein Entwickler im Tonstudio und hat mir die Hintergründe meines Charakters erzählt, was ihn antreibt und warum er jenes tut. Solche Insider Informationen helfen einem Schauspieler und Sprecher sehr. Selbst ein Foto unterstützt die Darstellung. Von ELDER SCROLLS ONLINE zeigte man mir einen Clip einer Kampfszene, damit ich die Choreographie erfasse und meine Anstrengungsgeräusche anpasse.
SR: In Deutschland bevorzugen übrigens viele Spieler gerade englischen Stimmen in den Games. Bekommst Du Feedback?
Interessant, dass über die deutschen Spieler zu erfahren. Das beste Feedback kommt immer von den Fans! Sie spielen die Games und besitzen meist große Kenntnis über die Spielwelt. Ich liebe es von ihnen zu hören!
SR: Spielen Du die Games, bei denen Du mitsprichst und bist Du überhaupt ein Gamer?
Unter uns! Ich habe noch nie ein Spiel gespielt, egal ob ich daran mitwirkte oder nicht. Ich bin kein Gamer, aber ich denke, wenn ich einmal anfangen würde, könnte ich nicht aufhören!
SR: Du sprichst Captain Phasma in den lustigen LEGO STAR WARS Filmen. Die Lego Filme und Spiele sind sehr erfolgreich. Wie es ist ein Teil dieses Universums zu sein?
Dass ich für dieses animierte TV-Special von Lucas Arts und Disney XD gecasted wurde, hat mich unglaublich begeistert. Ein Teil des STAR WARS Universum zu sein, ist ein wahr gewordener Traum. Besonders geehrte fühlte ich mich, als ich hörte den neuen kraftvollen Charakter des Captain Phasma zu sprechen, denn ich bin ein großer Fan von Gwendoline Christie deren Schauspiel ich in 'Game of Thrones' bewundere und diese Rolle im STAR WARS Kinofilm spielt. Selbst rückblickend begeistert mich das Casting noch. Ich liebe es daran mitgewirkt zu haben! Und solch ikonisches Spielzeug wie Lego rundet das ganze Paket ab.
SR: Kannst Du mir etwas über Deine aktuellen und zukünftigen Projekte erzählen?
Als Sprecher mache ich demnächst erneut Aufnahmen für Durchsagen der 'World of Color' des Disney California Adventure Parks. Dann bin ich in einem neuen Computerspiel dabei, darf aber leider noch nichts verraten, nur das es zu einem sehr bekannten Franchise gehört. Als Schauspielerin habe ich gerade den Kurzfilm GIRL KNIGHT für ein Film Festival beendet und drehe demnächst in Los Angeles die schwarze Komödie BURYING YASMEEN. In Vorbereitung für September ist ein Drama, der Pilotfilm SAVE ME. Weiter bin ich in einer neuen Web-Show, einer Komödie mit dem Titel MY ROOMMATE'S AN ESCORT zu sehen.
SR: Vielen Dank für Deine Zeit meine Fragen zu beantworten.
Vielen Dank für Deine wunderbaren Fragen, Sascha.
Mehr über Ellen Dubin / More about Ellen Dubin:
Website: www.ellendubin.com
Facebook Fan Page: Ellen Dubin
Twitter: @EllenDubinActor
Instagram: ellendubinactor
IMDB: Ellen Dubin

(C) Bilder / Pictures Ellen Dubin
———————————————————
INTERVIEW WITH ELLEN DUBIN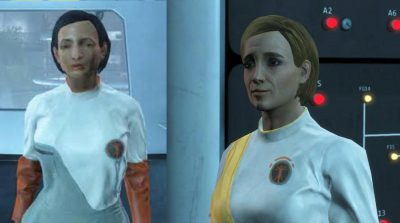 Anyone who is familiar with the unusual science fiction series LEXX cannot oversee the unorthodox Giggerota The Wicked. Behind this Character stands the Canadian actress Ellen Dubin. In her versatility, she also appeares as gueststar in TV series like Forever Knight, The Raven, Earth: Final Conflict, Relic Hunter, Mutant X, Dead Zone, Blood Ties and some more. Aside from acting, she is activly as a successful voice actor, in animationseries like Lego Star Wars – The Force Awakens and in many computer games including Guild Wars 2, Elder Scrolls V: Skyrim, Fallout 4, Star Wars Uprising, Elder Scrolls Online, Defense Grid: 2, World of Warcraft: Warlords of Draenor, Murdered: Soul Suspect and Wasteland 2. SHORTREVIEW's editor, Sascha Leupold, used the opportunity to talk with Ellen Dubin about their roles and work.
SHORTREVIEW: You played in Science Fiction, Comedy, Thriller and more. Which kind of Role you prefer and why?
I am happy in any genre that has a wonderful script! Writers are the unsung heroes of our business. Without good material, an actor cannot work. So as long as the script has some kind of emotional arc, some unique character traits and complex and interesting relationships, I am a very content actress. I am lucky that I have had the opportunity to play a wide variety of roles that go from comedy, to drama to thrillers, to Sci fi to movies of the week. So the project I am working on at the time, is my favorite!
SR: In the Cult Series LEXX you played the crazy Giggerota. She has still a great Fanbase. When you think back, what makes Giggerota so special?
I am so grateful to have such an incredible fan base – new and old with the character of Giggerota the Wicked. First of all, have to give huge kudos to the creator of LEXX, Paul Donovan, who put together such a wild unusual show which really was the forerunner of many sci fi series to follow. He and writer Lex Gigeroff took great risks with the characters. I think the audience embraces the fact that Giggerota says and does whatever is on her mind. She doesn't censor what she says and does it with a lot of humor and bravado. Women love her because she is a strong powerful character. Everyone loves to watch Giggerota push Stanley (played by Brian Downey) around. The fact that Giggerota is reincarnated into different characters is also a huge treat for the audience. Giggerota spanned all four seasons of LEXX. She became Queen then the real-estate agent who turned into Pope. A wonderful twist to this character! I think the audience delighted in the fact, that they were watching different looking characters but had Giggerota's personality traits in all of them. Such a fabulous concept! Very unusual!
SR: LEXX is Science Fiction with a special Humor and Look. What Do you thought as you read the Script?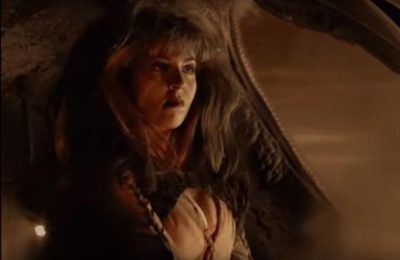 I had no clue what was going on when I first read the material for LEXX. At the first audition, we were only given a short monologue about love of women that Stanley Tweedle said. I was nervous about auditioning because I had no idea what to do with it. I didn't even like the material. Isn't that funny? But I took a risk in the room when I auditioned and got called back for Giggy. I remember at that second audition putting my foot up against the wall before I started talking and spreading my arms out like a huge praying mantis about to eat its prey. The body language and physicality connected with me right away. I think that goes back to my dance training and theater work. I now realize how clever and multilayered LEXX was as a show. Kids would like it because it is colorful and fun to look at it but adults can see the double entendres in the show. Major commentary on politics, religion etc. Very smart show! Even if you didn't like it, you would never forget it. And it is still one of the highlights of my career because it started my fan base in the science fiction genre and I got to travel the world- including shooting in Berlin and Potsdam Germany! Best bread and chocolate!!!
SR: You do a lot of voice acting. What are the fun and the challenge of it?
I love voice acting. I feel so free doing it. The fun is creating a character without props, sets, costumes, hair and makeup and the presence of the other actors by just the use of my voice. It is a wonderful feeling when you see a character come to life by breathing your voice into it. I love the fact that I am not cast by the way I look- I can be short, tall, round, skinny- I can be an animal, a Queen, a detective, a fantasy creature. I can play all kinds of ages etc. How great is that. And I can record from any part of the world and be in my pajamas! LOL!
SR: Is voice acting for Games different than voicing for Movie or Television?
Here is my philosophy- I am glad you asked about voice ACTING because that's what the best voice over people do. They act! It isn't about putting on a fake voice. So everything starts with a good well rounded performance. You have to know what happened before you speak, what your relationship is to the other characters and what you want from them. A lot of voice over work now is very real and natural. So if I am doing a video game, most often the performance is as if the camera is in a close up on my face. Unless I am doing military efforts but even if I am shouting, they still have to come from a real place and not a cartoony performance. If I am doing a narration for a theme park like Disneyland- there is a heightened energy because the voice is set to a full orchestra and choir- a fantasy lyrical type of tone but still has to come from the heart. I want to touch people when they hear my voice. Great voice acting is great voice acting. The audience can sense the authentic performance.
SR: You are the Alana Secord and Allie Filmore in the Game FALLOUT 4. What could you tell me about it and how could I imagine, how you prepare?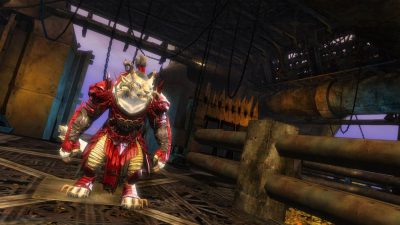 There is no preparation in advance for most video games. I get the material when I enter the sound studio the day of the job. There are such strict confidentiality agreements so you find out at the last minute what your dialogue is. Again theater training helps for this, because to do video games you have to be able to pick up the material at the last minute- and sometimes it is very dense and deliver a full fledged performance and read very well. Once I am in the room, I know immediately that this was a very cinematic type of voice over- Very realistic performance style and the director guides you as well. The preparation for video games has been done my whole life because I am a well -trained actor – in theatre, voice, dance, languages, Shakespeare, comedy, farce and drama. All that helps when you go into the studio and dive into a performance and create a character that is fully rounded.
SR: What kind of Information you get from the Gamemakers? Maybe a Bio about the Characters, Scenes from the Game or Artworks?
Sometimes you are lucky, as in GUILD WARS 2 to get diagrams of the various characters you play. So I got to see the creatures look-their heights, their teeth, their eyes etc. And one of the creators was in the room, so he could give me an insight into the back history of the characters and why they act the way they do. So as an actor to have that kind of information is very helpful in performing the character. Even a picture of the character you are playing opposite, can help your performance. In ELDER SCROLLS ONLINE, they showed me a clip of a fight scene so I could see the choreography and was able to fit my effort sounds into that fight sequence.
SR: In Germany many gamer prefer the English voices in the Games. Do you get feedback about your work?
Interesting that you said that about German gamers. The best feedback is from the fans! They are the ones that play the games and are very knowledgeable about the game world. I love hearing from them!
SR: Do you play the Games you voiced and are you a Gamer?
Sssh! I have never played I games that I am in or any other one. I am not a Gamer. I think if I started, I wouldn't stop!!!
SR: I saw that you voiced Captain Phasma in the funny LEGO STAR WARS films. The Lego Films and Games are very successful, how is it to be a part of these Universes?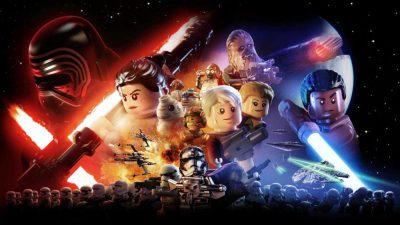 When I got cast in this animated tv special for Lucas Arts and Disney XD, I was thrilled beyond belief. To be a part of the STAR WARS universe is a dream come true. And when I heard I was playing the new powerful character of Captain Phasma, I was truly honored as I am a huge fan of Gwendoline Christie whose work I admire from Game of Thrones and who plays this role in the feature film. Just still over the moon about this casting. Loved working on it! And an iconic toy like Lego completes the whole package.
SR: Could you tell me about your actual and upcoming projects?
Voice wise: I am going back to do another narration for World of Color for Disneyland's California Adventure Park. I just did another video game which I can't say anything about yet but one from a very well known franchise. Film wise: A moving short film I did called Girl Knight will be playing the film festival circuits and I am about to shoot a black comedy film in LA called Burying Yasmeen. I will be shooting a dramedy pilot in September called Save Me. And doing a new web show – fun comedy called My Roommate's An Escort.
SR: Thanks for your time to answer some questions.
Thank you for your wonderful questions Sascha