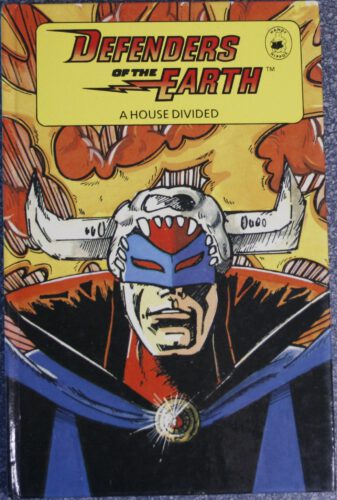 DEFENDERS OF THE EARTH – Die Retter der Erde ist eine US-amerikanische Zeichentrickserie aus dem Jahr 1986 und wurde bei uns in Deutschland Anfang der 90er Jahre auf Tele 5 ausgestrahlt. Im Mittelpunkt der Serie steht die berühmte Heldengruppe Flash Gordon, Mandrake der Zauberer, der Dschungelkämpfer Phantom und Lothar, Mandrakes Helfer und stärkster Mann der Welt. Gemeinsam kämpfen sie gegen den bösen Herrscher Ming, den klassischen Gegenspieler Flash Gordons, der im Jahr 2015 versucht, die Erde zu erobern. Unterstützt werden sie von Flashs Sohn Rick Gordon, Lothars Sohn Lothar Junior besser LJ genannt, Phantoms Tochter Jedda Walker und dem Waisen K'shin, um das sich Mandrake kümmert. Zur Belustigung ist noch K'shins Alien-Haustier Zuffy der Zuffoide dabei.
Dieses englische Jugendbuch zur Cartoon Serie DEFENDERS OF THE EARTH von 1987 wurde in UK veröffentlicht. In ihm wird Folge 4 der 65 episoden umfassenden Serie betrachtet.
Im LET'S VIEW wird dieses Magazin durchgeblättert und kommentiert.